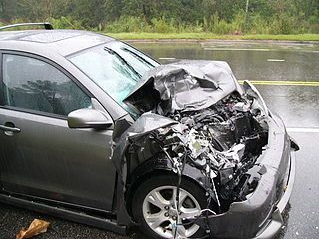 Overturned tractor trailers in Philadelphia, South Jersey add to truck crash statistics
Two major incidents involving the overturning of a tractor trailer marred commutes in South Jersey and the Philadelphia area during Veterans Day week. Fortunately, there were no fatalities, and only minor injuries have been associated with the two incidents. But they served as a reminder of how common accidents involving large trucks are in the United States.
In the first incident, which occurred on November 13, a flatbed tractor trailer overturned at the base of the Ben Franklin Bridge. The overturned tractor trailer blocked three lanes of a multi-lane ramp exiting the bridge on the Philadelphia side of the span. The truck's load of lumber spilled onto the left shoulder, as well as onto the road below. The accident occurred at the particularly unpropitious time of 6:16 a.m., during the thick of the morning commute.
As a result of the incident, traffic was backed up across the bridge past the toll plaza in Camden, NJ. More than four hours later, service was finally restored to all lanes. The driver of the truck sustained injuries that were described as minor.
The next day, another tractor trailer overturned on the New Jersey Turnpike near Woolwich Township in Gloucester County. The incident happened shortly before 8:30 a.m. in the southbound lanes, and motorists were detoured around the accident scene following the crash. As in the case of the accident on the Ben Franklin Bridge, the driver of the tractor trailer in this incident escaped with minor injuries.
The two high-profile incidents in metropolitan Philadelphia and South Jersey parallel a federal government statement on the steady increase of large truck accidents nationwide. According to the Federal Motor Carrier Safety Administration, accidents involving large trucks have increased by 20 percent during the past two decades.
Perhaps unsurprisingly, the vast majority of both nonfatal crashes (89 percent) and fatal crashes (83 percent) involving large trucks occur on weekdays, both when the lumbering vehicles are most common and roadways are often congested with traffic.