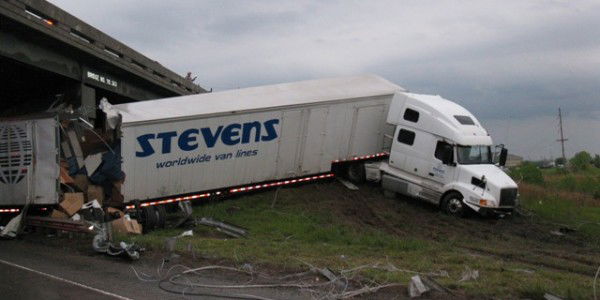 Tractor-trailer accident on New Jersey highway adds to rollover statistics
On December 15, a FedEx tractor-trailer rolled over and spilled its cargo of packages on an exit ramp for Route 287 in Mahwah, New Jersey, which would have been bad enough on any given weekday morning. But that Monday happened to be the busiest shipping day of the year for FedEx and the U.S. Postal Service, and the accident sent FedEx employees scurrying to retrieve holiday season packages.
The driver of the tractor trailer, Michael Wagner, 54, said he swerved his vehicle trying to avoid a tire on the road. The cab and first trailer rolled over, blocking the flyover road that permits northbound traffic from Routes 17 and 287 North to proceed south on either of the two highways. 
Wagner was taken to Good Samaritan Hospital for what state police described as "very minor injuries." The police issued Wagner a summons for careless driving and for failure to maintain his lane.
The road, which is just south of the New York state border, remained closed for a little more than seven hours and re-opened at 10:00 a.m.
A study by the University of Michigan Transportation Research Institute found that 15,000 commercial trucks roll over every year in the United States, which translates into about one rollover for every one million miles of truck travel. Of that total, about 9,400, or about one rollover for every four million miles, involve tractor-trailers.
Fortunately, no one was seriously injured or killed, and no other vehicles were involved in the Mahwah accident. But the incidence of commercial vehicle rollovers bears a significant association with traffic fatalities. Indeed, it has been estimated that while four percent of all truck accidents involve a rollover, 12 percent of trucking accidents that result in a fatality involve a rollover.