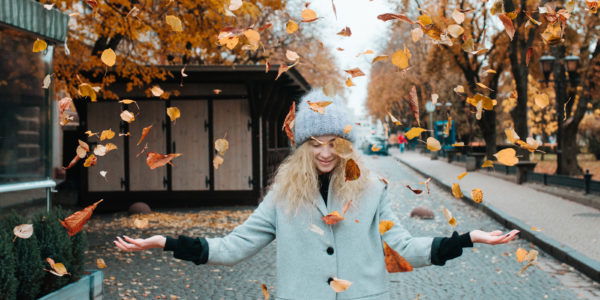 How to Enjoy Fall Safely in New Jersey
Autumn in New Jersey brings crisp air, clear skies, the occasional rainstorm, and the excitement of heading back to school. After a long, hot summer, fall also poses safety risks that New Jersey residents may not be prepared for.
Here are some of the most significant personal injury risks that can happen in New Jersey autumn. Learning how to prepare can help keep yourself and those around you safe.
Clean Up Leaves and Branches in Your Yard, Driveway, and Sidewalk
Autumn leaves fill New Jersey with beauty. However, these leaves can cover up cracks, branches, and wet pavement which can cause an unwanted slip-and-fall injury. Autumn rains or frost from a recent storm can make slips and trips more likely.
To help prevent slips and trips, clean leaves off of your yard, driveways and sidewalks. Mulch your leaves in a garden or dispose of them according to local guidelines. Supervise kids when they play in leaf piles. Warn them to avoid piles on the roadside, which can conceal a dangerous curb or debris.
Prepare Your Car for Cold Weather Driving
Autumn is a season of surprises when it comes to weather. You may have dinner in a warm New Jersey fall evening and wake up to a crisp winter morning commute – snow included.
Help protect yourself and those around you by preparing for rainy or snowy weather driving conditions. An important question to ask yourself is, "Have I rotated or replaced my tires?" Depending on the make and model of your tires, it's best to figure out what mileage is an indicator for doing a tire rotation. Having sturdy and properly aligned tires are crucial for safe driving.

Another thing to consider is, preparing a cold-weather kit to place inside of your car. The kit can include warm clothes, blankets, spare batteries, emergency rations, and tools for digging out a snowdrift. Planning ahead while the leaves are still changing can help ensure you safely make it to your destination when the first snows arrive. Although you may practice safety measures like this, other drivers may not. Car accidents can still happen and contacting an experienced new jersey car accident lawyer as soon as possible is the next best step.
Take Notice of the Shorter Daylight Hours
Now that we are in November, a normal twenty-four hour day in New Jersey consists of more darkness than daylight. The longer nights and shorter days can creep up on you if you're not prepared. Double-check your vehicle's lights, and ensure that your exterior house lights are in working order.
As the length of daylight changes, consider your direction on familiar routes, such as to and from work. Will you be looking directly into the sun on some of those drives? If so, plan ahead. Pack sunglasses in your car, adjust your schedule or consider a route that gives you greater visibility. As you drive, slow down and stay alert for other vehicles and people – especially near schools.

Should you encounter an accident with a pickup truck, bus, or other vehicle, ensure that you take pictures of the scene. You will want to capture any skid marks left on the ground, debris, weather conditions, car impacts, and any bodily injuries if you are in a condition to do so. Next, contact Petrillo & Goldberg to discuss the best recovery plan for your unique situation.
Gather Your Winter Tools
Most swimming pool owners prioritize safety when the pool is in use. Water that isn't drained or balanced to prevent freezing can crack surrounding concrete, covering walkways in a sheet of dangerous ice. A pool cover that doesn't fit properly or is torn and leaves a gap can result in injuries.
While enjoying the last few days at your poolside before winter, think about how you will winterize the pool to prevent injuries. Order or purchase the chemicals and equipment you'll need for a safe pool closure and a more efficient reopening in the spring.
Practice Ladder Safety
For many New Jersey families, fall means it's time for several chores, from cleaning chimneys and gutters to hanging festive holiday decorations. These chores all require a ladder – and using a ladder involves an awareness of safety so that a fall doesn't cause serious harm.
Always wear appropriate shoes or boots when using a ladder. Position the ladder on a flat surface. Don't work alone. Ask a responsible adult to spot you while you climb and stand on the ladder. Your spotter can help reduce risks or call for help if an issue does occur.
Focus on Household Fire Safety
Keeping a household safe starts with practicing fire safety. Understanding how to light logs and disposing of them may seem minor, but they are critical tasks that homeowners must do correctly to prevent accidents from happening.
A professional chimney sweep can help clear your fireplace and chimney of soot, creosote, discarded birds' nests, and other flammable debris. A chimney sweep can also evaluate the condition of your fireplace or wood stove liner. Double-check your fireplace tools and surroundings and address any safety concerns. Also, a screen can help keep sparks from escaping.
Lastly, checking and replacing batteries in smoke detectors will help alert you and your family of any fire risks. Consider adding a carbon monoxide detector as well.
If you were you injured in an accident and sustained a severe injury, don't wait to speak with an attorney. Talk to the New Jersey personal injury lawyers at Petrillo & Goldberg today. Your consultation with our office is free and confidential.