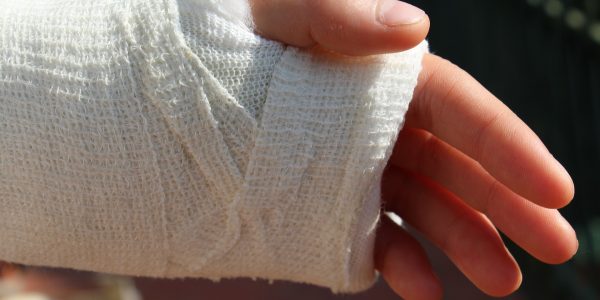 I've Been Injured In An Accident, What Is My Case Worth?
This is often the first question clients ask personal injury attorneys. Unfortunately, it is extremely difficult to answer because there are many factors that go into that determination. There is no specific mechanism or formula to determine the value of a personal injury claim because every case is different. Depending on who is looking at the facts and circumstances – the insurance companies, the attorneys, or, potentially, jurors – the values could be vastly different.
Personal Injury Claims.
Personal injuries occur when an unintended event, like a car accident, workplace injury, or slip & fall is caused by someone's negligence. The at-fault individual failed to exercise a reasonable amount of care and harmed or injured another person to whom they owed a duty of care. Proving negligence in personal injury cases is necessary to hold a person or company legally responsible.
Negligence claimants must prove four elements:
Duty. The defendant owned a legal duty to the plaintiff.
Breach. The defendant breached their duty by failing to act.
Causation. It was the defendant's action or inaction that caused injury.
Damages. The plaintiff was injured (by the defendant).
To file a personal injury claim, the case must be filed prior to the expiration of the applicable statute of limitations. Your attorney can advise you on this issue as it varies by state.
Types of Damages.
No two accidents are the same, nor are the way that injuries impact victims. If you are injured, depending on the type of injury(ies) that are incurred, you may have the right to claim both "economic" and "non-economic" damages.
Economic damages are those that are relatively easily measured because a dollar figure can be specifically determined. For example:
Lost income;
Reduced earning ability;
Medical costs (current and future);
Transportation for medical appointments or treatment;
Medical devices or prescription drugs;
Modifications to a claimant's home for accessibility reasons;
Out-of-pocket costs;
Property damage; and
Home health aides.
Non-economic damages are those that are not generally quantifiable. These are more difficult to measure and are subjective to the claimant involved. These items can make up a damage award for past and future non-economic loss:
Pain and suffering;
Embarrassment and humiliation;
Loss of ability to enjoy the pleasures of life; and
Disfigurement by or permanence of injury.
While damages generally fall into the economic or non-economic categories, a third, less-often used category does exist: punitive damages. Punitive damages are designed to punish the defendant for particularly egregious conduct rather than to compensate victim (although the injured party does receive the money). Additionally, it is hoped punitive damages will deter others from engaging in the same type of heinous conduct in the future.
If your case progresses, additional factors that will or may be considered in determining damages – potentially increasing or decreasing an award or settlement – are, but not limited to, the following: apportionment of fault, sympathy towards the victim, credibility of witnesses, insurance coverage, and the conduct of the parties.
What Your Claim is Worth.
There only real way to determine the value of a claim is when it is concluded by either a consensual settlement or jury verdict. Everyone involved will have an amount in mind based on their view of the facts, circumstances, and the law, and that figure will almost certainly increase or decrease as the case progresses.
For example, your attorney believes the claim is worth $100,000 dollars, you believe $150,000, and the defendant's insurance company, $50,000. If the best settlement offer is $90,000 and you accept that, then thatis what your case is worth; a jury could award $40,000 or $200,000 in which case that is what your claim is worth (and depending on the state in which you reside, that amount could be reduced by some amount representing your portion of negligence in the accident).
We Are Experienced Personal Injury Lawyers.
While it is the facts and law surrounding your case that will have the greatest impact on its value, having the right personal injury attorneys gives you a better chance at a favorable recovery. The attorneys at Petrillo & Goldberg will work diligently to recover all available damages on your behalf. We are here to help personal injury victims obtain the compensation they deserve. We are available for a free consultation by telephone at 856-486-4343 or at either our Philadelphia, Pennsylvania or Pennsauken or Woodbury, New Jersey offices.