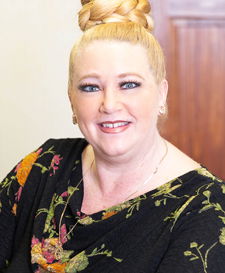 Kendra E. Young
Paralegal to Steven M. Petrillo, Esquire
Kendra has been a member of the Petrillo & Goldberg Team since 2003. She is part of our Litigation Team, completes site inspections, and assists with settlements and closings. Kendra graduated with her A.A.S. in Paralegal Studies from Camden County College in 2008, and earned her B.A. in Liberal Studies with a minor in Psychology from Rutgers University in 2013. She has two adult children and two grandchildren. Kendra loves the RV life and loves to travel. She is a huge ice hockey fan of her granddaughter who plays locally following in the "ice-skates" of her aunt Erin, who played on the championship hockey team for Rowan University. Kendra is also proud to announce that her daughter Erin has now joined the United State Army National Guard.
I came across a fortune cookie saying which said that "Success is a journey…not a destination." For me, a destination seems final, but a journey continues on, I am still on my journey called life!
I personally believe in order to be successful one must constantly set personal goals and work towards achieving those goals. You can never have enough knowledge as the law is an ever-changing practice which forces us to keep learning and updating our skills each and every day. This is what I love about personal injury law. I am proud and honored to work along such experienced lawyers at this firm and enjoy being a part of the success they bring to our clients. As a grandmother, it is now my new personal goal to instill strong work ethics and encourage good education into my grandchildren and naturally to continue to support my adult children in all of their life journeys!