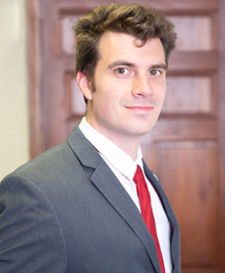 Steven Petrillo Jr.
Member NJ Bar
A recent graduate with academic honors from Rutgers University Law School, Steven (Jr.) brings to the firm a scientific approach to the practice of law. Steven's lifelong passion and dual bachelor's of science degrees—also with academic honors—in biochemistry and psychology inform every inch of his work.
Steven remains an avid runner, lettering in Cross-Country and later joining his college Varsity team. The scenic vistas of Cooper River Park abutting Petrillo and Goldberg are a frequent haunt of his, as are the many verdurous trails dotting the greater Philadelphia area.
Petrillo and Goldberg is like a second home to Steven. Ever a proud participant in the family business, Steven has worked in nearly every sector of the practice from bookkeeping and box-hauling to medicolegal research and discovery. He is excited to continue on in his career as an attorney with the firm and under the ongoing tutelage of his father, Managing Partner Steven M. Petrillo, Sr.
Steven married his college sweetheart and the love of his life in December of 2019. Steven and Ashlan are the proud and fortunate parents of two mischievous cats.