For most workers, a job represents more than a way to make a living; it's something to take pride in. As an employee, you get up every day and work hard for your employer. At the same time, you probably assume that your employer is looking out for you, just as you do for them. However, in reality, employers are often more concerned with their bottom lines than their employees. Ensuring a safe workplace isn't cheap, and when employers are looking to cut corners, workers are often put in jeopardy.
At Petrillo & Goldberg Law, our Camden County workers' compensation lawyers help injured workers obtain the benefits they need and deserve after suffering a serious workplace injury. We have extensive experience representing injured workers across all industries and have a 97 percent success rate. We can help you better understand your options and pursue the one that makes the most sense in your situation.
What Is the Workers' Compensation System?
Workplace injuries are common in New Jersey. According to the New Jersey Department of Labor and Workforce Development, there were over 131,734 reported accidents in 2021. From these incidents, 31,531 workers filed new workers' compensation claims.
The New Jersey workers' compensation is a no-fault program designed to connect injured workers with benefits. Because the workers' comp program is a no-fault system, injured workers do not need to prove that anyone was at fault for their injuries. In fact, most injured workers can still recover benefits even if their injuries were the result of their own negligence.
While fault is not important in a workers' compensation claim, injured workers must prove that their injury was related to their work. While this is straightforward in some situations, that is not always the case. An experienced workers' compensation lawyer can help injured workers understand what they need to prove to obtain benefits and help them gather the appropriate documentation to support their claim.
Camden County Workers' Compensation Quick Guide Infographic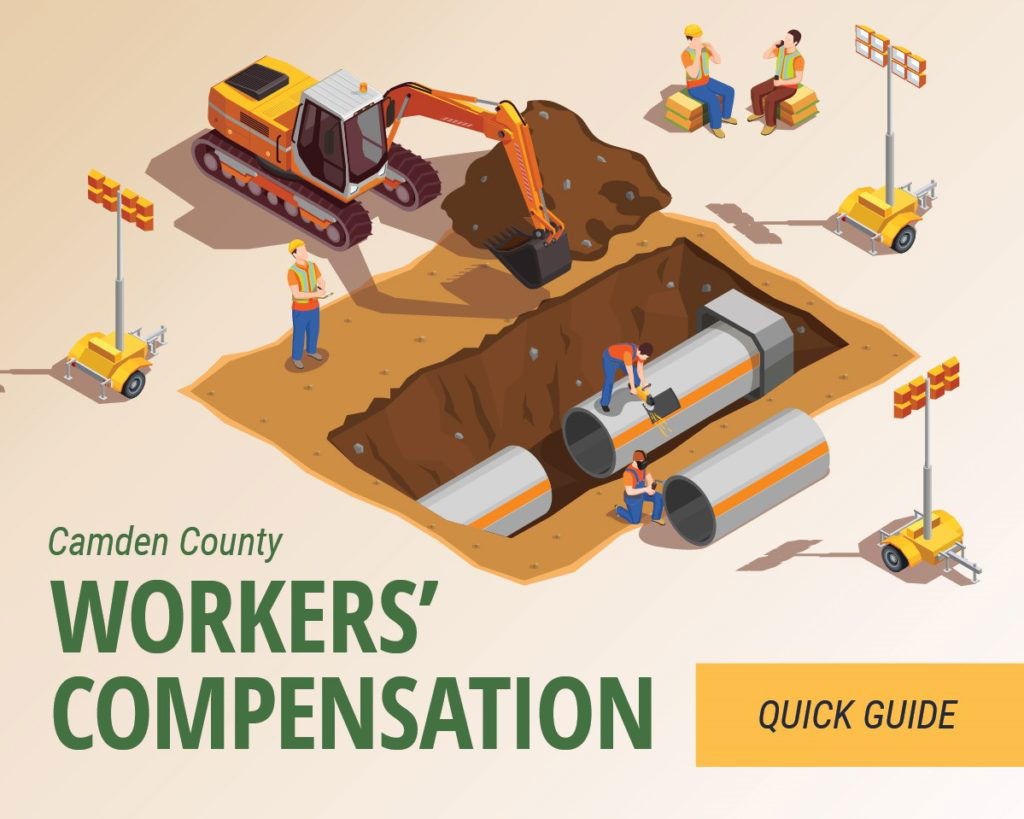 Workers' Compensation Benefits in South Jersey
What Injuries Does Workers' Compensation Cover?
Workers' compensation in New Jersey covers on-the-job accidents, as well as occupational illnesses. On-the-job accidents tend to be straightforward, as they occur while an employee is on the clock. However, occupational diseases present a much more challenging situation.
Often, an occupational illness develops over time, and the symptoms may not appear when a worker is on the job. Instead, a worker may initially notice lingering pain that worsens with time. Or they may wake up in the middle of the night experiencing severe pain. Regardless, it can be challenging to prove that an occupational illness was related to a worker's employment because often, there are multiple potential causes of an occupational disease.
Below are some examples of occupational illnesses covered under the New Jersey workers' compensation system:
Hearing loss,
Metal poisoning,
Osteoarthritis,
Tendonitis,
Tennis elbow,
Trigger finger,
Certain stomach or intentional issues,
Decreased vision, and
Any other condition that was caused by a worker's employment and is "peculiar to a particular trade, occupation, process or place of employment."
Injured workers can file for workers' compensation benefits after any type of work-related accident, including:
Lifting accidents; and
Overexertion.
Types of Camden County Workers' Compensation Benefits
There are a variety of benefits available to injured workers who successfully file a Camden workers' compensation claim. The two main types of benefits are medical coverage benefits and income-replacement benefits. The nature of benefits an employee is awarded will depend on the extent of their injuries, whether they can work at all during their recovery and how long until they can return to their original position.
Medical Coverage Benefits
Medical coverage benefits are the easiest to understand, as they cover all medical expenses related to an employee's injuries as long as those costs relate to a workplace injury. This includes payment for the following:
Emergency room expenses,
Ambulance transport,
Surgery,
Follow-up visits to the doctor's office,
Physical or occupational therapy,
Prescription and over-the-counter drugs,
Assistive devices, and
Certain modifications to a worker's home to accommodate their disability.
Temporary Total Disability Benefits
If your injury or illness causes you to miss more than seven days of work, you may obtain Temporary Total Disability (TTD) benefits. TTD benefits equal 70 percent of your average weekly wage. However, they are subject to a maximum of 75 percent of the Statewide Average Weekly Wage. TTD benefits continue until you are able to go back to work or once you reach your Maximum Medical Improvement (MMI). MMI is a term referring to the point at which your will no longer benefit from additional treatment. If you exhaust your TTD benefits by reaching your MMI, you may then be eligible for Permanent Partial Disability benefits or Permanent Total Disability benefits.
Permanent Partial Disability benefits
If you suffered a workplace injury affecting a certain part or parts of your body, you can obtain Permanent Partial Disability (PPD) benefits. The amount of PPD benefits depends on the part of the body affected.
Permanent Total Disability Benefits
If you cannot return to work due to a work-related injury or disability, you may be eligible for Permanent Total Disability (PTD) benefits. Like TTD benefits, PTD benefits equal 70 percent of your average weekly wage and are subject to a maximum of 75 percent of the Statewide Average Weekly Wage. Initially, you can obtain PTD benefits for up to 450 weeks; however, if you can show you cannot work at the end of that period, you may continue to receive benefits.
Death Benefits
Families of workers who are killed in an on-the-job accident can obtain workers' compensation death benefits to help them pay for some of the costs associated with the tragic loss of their loved ones. Death benefits are available only to those family members who were dependent on the deceased worker for financial support. Death benefits are 70 percent of the deceased worker's weekly wages, subject to a maximum. Families are also eligible for up to $3,500 in funeral expenses.
Third Party Injury Claims
In some ways, the workers' compensation system is a trade-off for employers. On one hand, employers are forced to purchase workers' compensation insurance, which is an additional cost. However, on the other hand, lawmakers made it so employees cannot sue their employer, making a workers' compensation claim an injured worker's sole remedy against their employer.
However, this does not mean that an injured worker cannot sue other potentially liable parties in a personal injury lawsuit. For example, say that you were working as a delivery driver for your employer when another motorist ran a red light and hit your car. In this situation, you could file for workers' compensation benefits as well as file a third-party personal injury claim against the at-fault driver.
Third-party injury claims are important because they provide a way for injured workers to obtain benefits that are not available through the workers' compensation system. Most notably, injured workers can recover non-economic damages through a third-party personal injury claim. Non-economic damages include:
Pain and suffering,
Loss of enjoyment of life,
Emotional distress, and
Loss of familial relationships.
Importantly, non-economic damages can be significant in a serious workplace injury case. Thus, it is essential for workers to consult with an experienced Camden County workers' compensation lawyer before determining how to proceed with their case.
The Camden Workers' Compensation Claims Process
While most workers are familiar with the workers' compensation program, few employees understand the details of how these claims proceed and what makes a claim successful. Below is a brief summary of the steps involved in the Camden County workers' compensation process.
An Employee Suffers a Work-Related Injury
The first thing that happens in any workers' comp claim is that an employee suffers a work-related injury or illness. It is important to remember that new Jersey workers' compensation laws cover both on-the-job injuries as well as occupational diseases. An occupational disease is a condition that a worker develops, usually over time, as a result of their job. While occupational diseases are covered under the New Jersey workers' comp system, these claims are generally harder to prove.
What to Do After the Accident
After a Camden workplace accident, the first thing you should do is to make sure you receive emergency medical treatment if you need it. Generally, your employer can select the doctor that treats you in a workers' compensation claim, however, in emergency cases, this doesn't apply, and you can seek medical treatment from any emergency room.
Once you are physically able to do so, it is essential that you report the accident to your employer. While the law does not require you to provide notice in writing, it is a good idea to give written notice to your employer; that way, there is a record of you reporting the accident.
Finally, ask your employer to fill out an accident report. The Occupational Safety and Health Administration requires employers to keep these notices on hand for employees to complete after an accident. Even if your employer tells you that there is no need to fill out an accident report, you should insist on completing one. This will also create a record of the accident, making it harder for an insurance company to later claim your injuries were caused by something else.
Your Employer Forwards Your Report to the NJ Workers' Compensation Division
Once you report a workplace accident, your employer has 21 days to file notice with the New Jersey Department of Labor and Workforce Development. In some cases, your employer and their insurance company may determine that your claim is compensable and offer a fair benefit amount. However, if an employer refuses to act on notice of a claim, you should consult with an experienced Camden County workers' compensation lawyer.
You Begin Receiving Benefits
If your employer's workers' compensation company finds your claim is compensable and offers you a fair benefit amount, that's all there is to it. You will begin to receive benefits, and you are on your way to recovery.
However, sometimes, it is not uncommon for an insurance carrier to dispute either the compensability of your claim (for example, by finding it was not work-related) or offer benefits that are less than what a worker deserves. An insurance company may also determine that you can go back to work sooner than your doctors suggest. In these cases, the worker can file either a formal claim petition or an application for informal hearing. Once a worker files either of these, the case will be assigned to a judge and a district office, based on where the injured worker lives. There is no requirement that injured workers are represented by an attorney, but most claimants decide to enlist the help of an attorney at this point.
File an Appeal, if Necessary
If your formal claim or application for an informal hearing results in you not receiving the benefits you think you are entitled to, you can appeal the decision. Workers' compensation appeals are heard by the New Jersey Superior Court Appellate Division.
Reach Out to an Experienced Camden County Workers' Compensation Lawyer to Schedule a Free Consultation Today
As an employee, you are entitled to obtain workers' compensation benefits after an on-the-job accident or following a diagnosis of an occupational disease. However, the process of obtaining benefits can be confusing, especially if you've never been through it before. At Petrillo & Goldberg Law, we have assembled a compassionate team of advocates who have dedicated their careers to helping New Jersey workers recover the compensation they deserve. Our lawyers handle all types of New Jersey workers' compensation claims as well as personal injury lawsuits. We can advise you of all of your options and help you pursue those that make the most sense for you and your family. To learn more, call 856-486-4343 to schedule a free consultation.